Building a Shared Future, Nurturing Leaders of Tomorrow
When we empower young people, we are empowering communities, we are working towards a future that we want to be a part of. Invite young people to the tables; into these groundbreaking regulations that we need to see implemented today.

Youths may only be 25% of the population, but we are 100% the future, and that starts today."

Melati Wijsen, Founder of YOUTHOPIA & Speaker at the Temasek Shophouse Conversations on Climate Action
Leaders of tomorrow; Changemakers of today.
Temasek Foundation has been engaging with youth leaders through various partnerships and programmes to support their passion and aspirations to build a community of good.
Through areas such as sustainability, entrepreneurship and innovation, like-minded youths are brought together and empowered to bring their ideas to reality.
These are some of the youth programmes supported by Temasek Foundation:
The Youth Call-to-Action programme supports young leaders to act and address societal challenges within Singapore and the region. A spinoff from the Temasek Shophouse Conversations and developed in collaboration with Heartware Network, the programme mentors and guides potential youth leaders through to tackle themes such as climate change and future pandemics.
Ng Sze Min and Nicole Ng are co-founders of Terra House, an initiative to encourage sustainable green living in the community. Using common objects found in the home, they hope to simplify steps and provide tips for anyone in search of indoor gardening ideas.
Heartware Network paired Sze Min and Nicole with their mentor, Shakilla Shahjihan, to guide them through their ideation process. Sze Min shared that it was during the mentorship "where we learned to distil the ideas we had".
Watch how Sze Min and Nicole worked with Shakilla to bring their idea to life.
Young Sustainability Incubator Programme
Sustainability has been a unifying concern of the global community, and even more so for future generations at risk of the effects of climate change.
Temasek Foundation partnered World Wide Fund for Nature Singapore, Green Is The New Black and Grey Singapore on a digital campaign titled "We Got This", to build a community of youth sustainability advocates who communicate effectively through social media outreach and storytelling.
The programme consists of a series of masterclasses, bootcamp, and mentorship to empower youths with the knowledge, skills, and tools to design and implement sustainability-focused projects.
Young Sustainability Champion Programme
In April 2021, over 4,000 participants aged 13 to 17 years old from across 50 schools in Singapore participated in Temasek Foundation's Young Sustainability Champion Programme.
Organised by the Science Centre Singapore, the students were challenged to complete sustainability-related tasks via Science Centre's online platform, "I am a Young Scientist", and propose innovative and sustainable solutions.
For me personally, the biggest takeaway was to be willing to try. For this hackathon, we had to venture into a lot of unknown territories, so we need to keep learning. It was a lot of trial and error, and a lot of things I wouldn't have done if I haven't had this opportunity."
Celestar Hong
Team Wastebusters
Young Sustainability Champion Programme
Winning Team 2020
To spur interests in Design & Engineering, and Science, Technology, Engineering and Mathematics among the youths, Temasek Foundation partners with the NUS High School of Mathematics and Science to provide students and staff with opportunities such as educational support, development of research skills and training and development.
One of these programmes is the Tesla Initiative which develops the maker mindset and pioneering spirit in students by engendering a maker culture and building skillsets. Students undergo learning journeys, workshops, job-shadowing programmes and short-term immersions in tech-based start-ups and high-value engineering companies.
I aimed to gain a greater insight into how aquaponics systems work, as well to put my engineering skills and knowledge to good use to engineer innovative solutions. One of the most memorable experiences was the completion of the aquaponics system. This internship has utilised knowledge from various fields from Engineering to Design Thinking, as well as Biology and project management skills.
Joel Ku
Year 6 student in NUS High School
Aquaculture Design Intern
Reaped Farming Company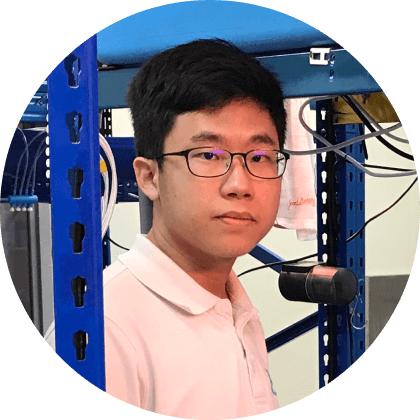 Temasek Foundation Inspire Fund
Athletes who are passionate and committed to sporting excellence can now tap on the Temasek Foundation Inspire Fund to pursue their sporting interests.
Jointly administered by SportSG and National Youth Sports Institute, the annual funding of $100,000 under Temasek Foundation's E W Barker Endowment supports young athletes representing Singapore at international competitions to pursue their dreams.
Youth Exchange Programmes
To be global citizens in the highly interconnected world of today, youths need to foster a greater understanding of regional and global issues and deepen their appreciation of culture and diversity across different communities.
Temasek Foundation supports a series of exchange programmes for regional youth leaders that provide opportunities for cultural exchange, networking, community engagement and leadership development:
Leadership Enrichment and Regional Networking (LEaRN);
Specialists' Community Action and Leadership Exchange (SCALE); &
STEP
These programmes enable participants from institutes of higher learning across Asia to connect and engage in cross-border community projects.
One such programme is the STEP Asian Undergraduate Summit (AUS), an annual student-led international programme supported by Temasek Foundation and the National University of Singapore's University Scholars Programme. It aims to build an integrated platform for undergraduates across Asia to engage in meaningful academic and cultural exchange.
AUS made me hungry for knowledge and ready for action. The programme has equipped me on thought processes to form solutions for relevant issues of today. Applying my takeaways from the programme, I am leading a community project together with my sisters for 30 out-of-school children in our community."
Arvin Rick S. Omac
Messiah College Foundation, Inc.
Philippines
Participant of STEP AUS 2021