Each Singapore household may collect medical grade masks as follows

50 pieces surgical masks
25 pieces N95 respirator masks
These masks have 95% particle filtration efficiency or better

SP Group utilities (residential) bill account numbers will be needed for collection of these masks

Physical SP residential bill for barcode scanning;
Online SP residential bill on SP Utilities app for scanning; or
SP residential account number for manual validation

Over 130 collection points island-wide, including 15 CapitaLand malls, and select outlets of Sheng Siong, Prime Supermarket, Cold Storage, FairPrice Xtra and Giant

Not all supermarkets / malls are collection points
Please visit stayprepared.sg/masks to check

​​nearest collection points
collection hours
stock levels

Collection period is over one month

Starts on Thursday, 26 August 2021
Ends on Sunday, 26 September 2021

Residents are advised to bring their own bags to carry the boxes of masks

No bags will be provided at the collection points
Surgical masks come in 2 boxes of 25 pieces or 1 box of 50 pieces
N95 masks come in 1 box of 25 pieces
#BYOB "Bring Your Own Bag" to carry up to 3 boxes of masks

No returns or exchanges will be allowed for hygiene reasons
There is ample time and sufficient stock, so there is no need to rush for collection
Pro Tip #1: All masks come in standard adult sizes, so no measurements are required
Pro Tip #2: Cut the queue at 11 of 15 CapitaLand malls – These 11 malls have a digital queue system1 so residents can pre-queue and be informed when it is their turn to collect. Residents can also check the queue length at each collection point before heading down. This helps to reduce crowding at the collection points.
Singapore households can look to forward new COVID-19 care items from Temasek Foundation, consisting of 50 medical grade surgical masks and 25 N95 respirator masks. Both have Particle Filtration Efficiency (PFE) of 95% or better.
With the more infectious COVID-19 variants, it is important to have better masks ready for higher risk situations.
For example, residents with flu symptoms should put on a better mask such as a medical grade surgical mask to go see a doctor.
It is especially important for residents who tested positive at home with Antigen Rapid Test (ART) self-test kits to put on medical grade masks, preferably higher grade ones like an N95 mask, to go to their doctor for their confirmatory COVID-19 tests. Ideally, those with symptoms with negative ART results or are waiting for their test results should do the same.
Unlike previous free Stay Prepared masks, these are single-use disposable masks for specific high risk or high exposure situations, and should be disposed properly for hygiene reasons.
Residents must bring their physical or online SP residential bills (in order to scan their account barcode), or provide their SP residential account numbers at any one of the collection points island-wide. They should also bring along their own bags to carry the boxes of masks.
Collection starts on Thursday, 26 August 2021 and ends on Sunday, 26 September 2021, at over 130 collection points, comprising 15 select CapitaLand malls, and 116 participating supermarket outlets of Sheng Siong, Prime Supermarket, Cold Storage, FairPrice Xtra and Giant.
Residents may go online to stayprepared.sg/masks to find their nearest collection points and their collection hours, as well as check prevailing stock levels.
There is ample time for collection and plenty of stock, so there is no need to rush.

Medical Grade Surgical Masks and N95 Respirator Masks
The surgical masks are high performance medical grade quality, and used in hospitals.
These free masks are not intended to replace suitable masks that can be worn daily, such as good reusable fabric masks with two or three layers.
Temasek Foundation is providing these free masks as standby stock in each household, to be used for specific higher risk situations, like folks going to see their doctors when they have flu-like symptoms. These can be used as extra protection on top of reusable or other masks. They can also be used at home while we are waiting for test results.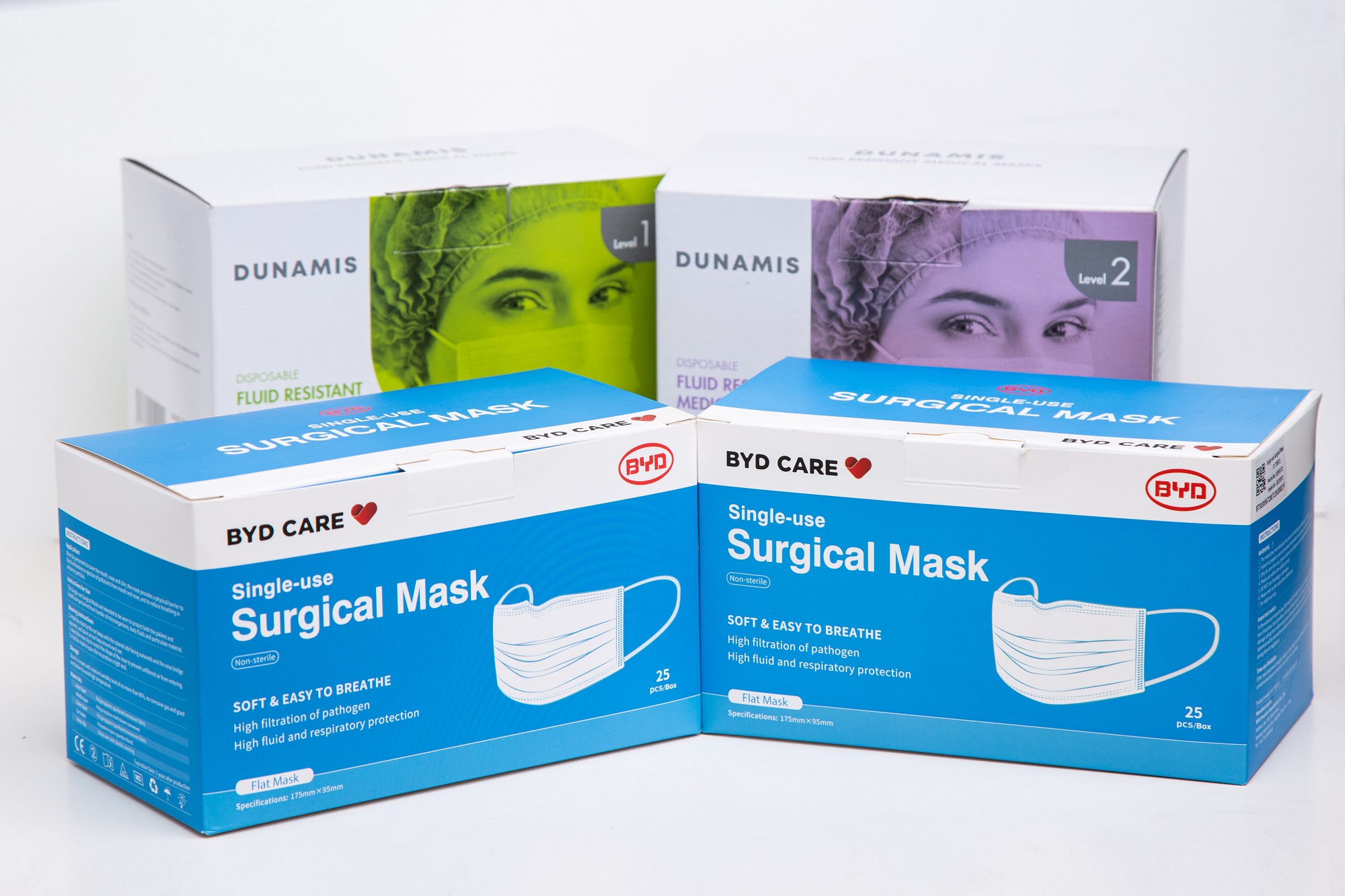 Medical grade surgical masks come in 2 boxes of 25 pieces or 1 box of 50 pieces.
The N95 respirator masks are also high performance medical grade masks used in high risk settings such as caring for COVID-19 patients, swabbing operations, and so on.
These are not meant for daily use in general public settings. They are less breathable than the medical grade surgical masks, and provide excellent protection if there is a proper seal around the mask. They can be used on high risk occasions like when we do ART tests at home and find that we have positive test results.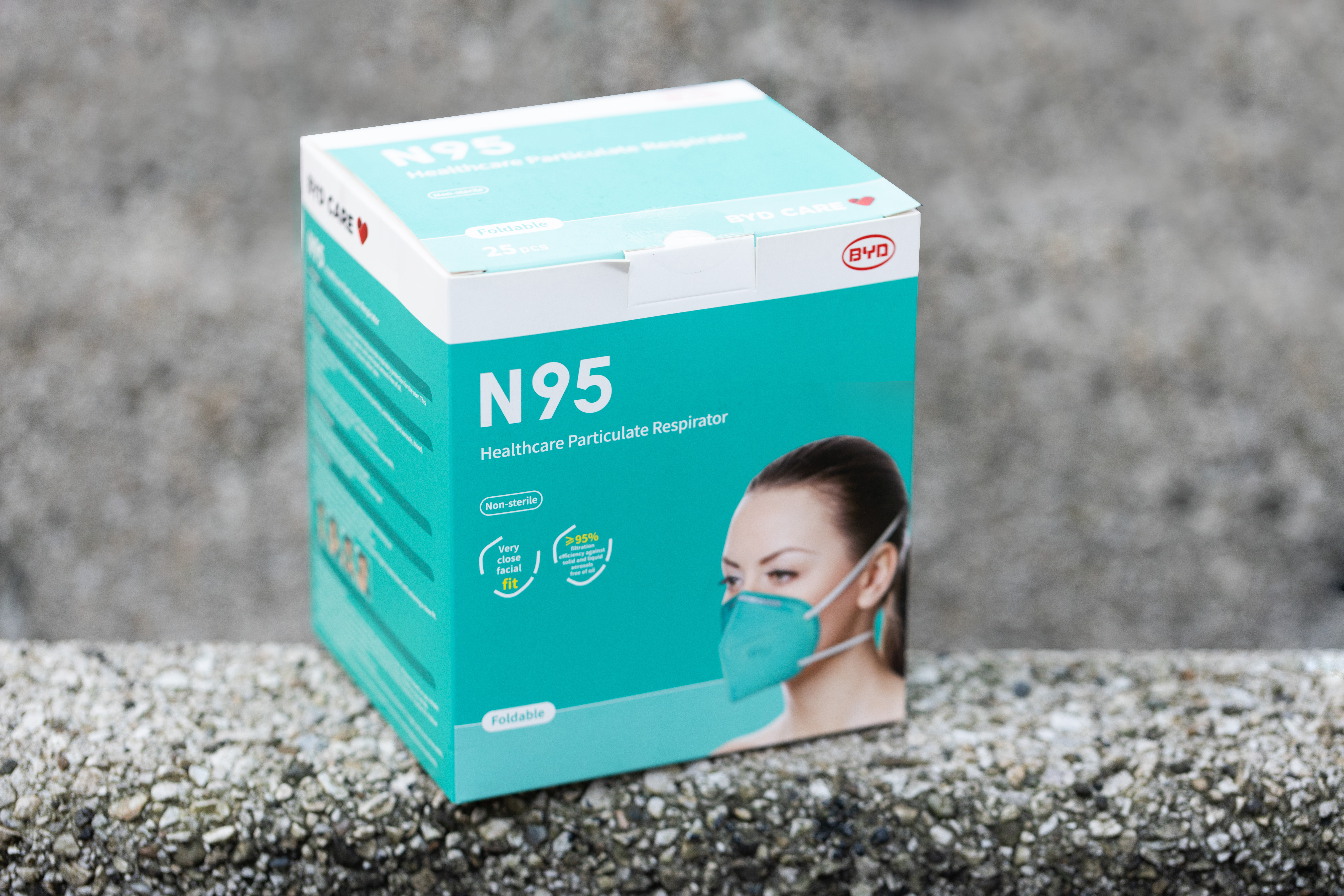 N95 masks come in 1 box of 25 pieces.
Who May Collect the Free Masks?
Anyone from a household may collect the masks on behalf of their household, if they have a valid SP residential bill (physical or online). They can alternatively provide their SP residential account number.
Residents may also collect the free masks on behalf of others such as their friends and neighbours by bringing along their SP residential bills (with account barcode) or SP account numbers, if they have been authorised to do so.
Residents are reminded that it is a crime to misuse another household's SP account number, bill account information or the physical SP bill to falsely represent such authorisation to collect the masks.
Our collection points are equipped with security cameras, and Temasek Foundation will refer to the Police for investigation of any unauthorised collection of masks. Those who dishonestly deprive others of collecting their masks through fraudulent methods of obtaining their personal information to misuse this for personal gain, will be dealt with sternly and in accordance with the law.

Collection of Masks from Malls and Supermarkets
Residents may collect their masks from select CapitaLand malls, and participating supermarket outlets of Sheng Siong, Prime Supermarket, Cold Storage, FairPrice Xtra and Giant, from Thursday, 26 August 2021, to Sunday, 26 September 2021.
Collection hours at CapitaLand malls are 11am to 8pm daily. Hours vary at other participating supermarket outlets.
Not all malls or supermarkets are collection points, so residents are advised to visit stayprepared.sg/masks to check online for the collection points nearest to them, and their respective collection hours, as well as stock levels.
Residents are also advised to "Bring Your Own Bag" (#BYOB) when collecting the masks, as the participating collection outlets will NOT provide bags. These masks will comprise one box of 25 N95 masks, and the medical grade surgical masks which will either be in 2 boxes of 25 each, or one box of 50.

Collection points at the 15 select CapitaLand malls:
11 malls with digital queue systems: Bedok Mall, Bugis Junction, Bukit Panjang Plaza, Funan, IMM, JCube, Junction 8, Lot One, Plaza Singapura, Tampines Mall, and Westgate.

Residents can get a queue number online via getq.capitaland.com. Alternatively, they can also collect a queue number physically from the customer service counters in these malls.
Residents can use the digital queue system to check the queue length at each collection point before heading down.
They will receive notifications when it is their turn to collect.
Malls without the digital queue system: Aperia, Jewel Changi Airport, Raffles City Singapore, and SingPost Centre. Residents need to queue at customer service counters.
Collection points at supermarket outlets of Sheng Siong, Prime Supermarket, Cold Storage, FairPrice Xtra, and Giant:
Collection kiosks will be set up at select outlets for residents to collect their free masks.

Hotline and Email for Enquiries
Please visit stayprepared.sg/masks or follow Temasek Foundation on Facebook for more information on this StayMasked initiative and other upcoming distributions.
The 1800-738-2000 StayMasked hotline is open from 9 am to 9 pm daily, from Thursday, 19 August, to Sunday, 26 September (except on Public Holidays).
Enquiries or feedback may also be emailed to: [email protected] .

Preparing for the Endemic COVID-19 New Normal
Singapore's nationwide vaccination programme has been progressing well. By September, Singapore is likely to fully vaccinate 80% of its population with two shots each.
By early next year, we expect that paediatric vaccines may become available globally. Third doses may be made available as booster shots for the immune-compromised and possibly the elderly, to improve their immune response and protection.
We also expect more types of vaccines to be available sometime next year, including new versions to target better protection against the more infectious variants we are seeing.
Vaccination offers strong protection against COVID-19 for the individual, especially against severe or critical illness. A high vaccination coverage also slows down the transmission in a population. This is because if infected, vaccinated people are likely to recover faster and have shorter windows when they are infectious, compared to unvaccinated people.
With the emergence of the highly infectious COVID-19 variants, we do not expect herd immunity with the current generation of vaccines. It will also take several years to achieve high levels of vaccination globally, even if more sterilising vaccines come along.
Also, no vaccines offer 100% protection.
Vaccinated individuals could still be infected, albeit mostly with mild or even without symptoms. Likewise, some unvaccinated individuals who are infected may be highly infectious even when they have little or no symptoms. Together, such silent carriers may go on to infect others, especially those who may not yet have been vaccinated, or those who are vaccinated but have lower protection for various medical or health reasons.
Hence, to live with COVID-19 as an endemic infection, it is crucial for people to maintain various safety precautions, such as the use of masks to minimise the spread of COVID-19.
Every Singapore resident plays an important role to minimise new outbreaks and prevent hidden clusters from forming in the community, in a new normal of endemic COVID-19.
Mr Lim Boon Heng, Chairman, Temasek, said: "Celebrating National Day this month reminds us that everyone has a part to play to help one another and Singapore move towards being a Covid-19 resilient nation.
"As we emerge from Phase 2 (Heightened Alert), and Singapore continues to open up, let us remain diligent in preventing any further outbreaks. In addition to good personal hygiene, safe distancing and self-monitoring, mask-wearing has been effective at reducing the spread of airborne respiratory droplets."
Temasek Foundation thanks its partners for supporting the mask distribution. They include
SP Group for managing the hotline and redemption of masks via SP bills; and CapitaLand, Sheng Siong, Prime Supermarket, Cold Storage, NTUC FairPrice and Giant for providing venues and facilitating the distribution of masks; as well as Certis for special deliveries of some masks.
Ms Woon Saet Nyoon, Chief Executive, Temasek Foundation Cares, added: "Even as the majority of our population is on track to be fully vaccinated, let us remain vigilant.
"Residents who have flu-like symptoms, or got a positive result from their self-test kit and are going out to see a doctor, can wear these masks alone or on top of reusable masks for an added layer of protection, especially to reduce the risk of infecting others. They can also stay masked similarly when visiting someone in a hospital or nursing home, to protect the vulnerable and elderly.
"On behalf of Temasek Foundation, I would like to extend our warmest appreciation and deepest gratitude to our partners, for their support in making these masks available for our community to use where necessary."

Temasek Foundation COVID-19 Initiatives
Since early last year, Temasek Foundation has been working with multiple partners to provide support in and outside Singapore in response to the COVID-19 pandemic.
An initiative in Singapore to encourage hand hygiene was the first #BYOBclean sanitiser initiative in March 2020, where Temasek Foundation partnered with People's Association, corporates, unions, universities, and community organisations to provide 500ml of hand sanitiser to every household in Singapore. The hand sanitiser distribution in April 2021 is the second #BYOBclean nationwide initiative.
Temasek Foundation also contributed four rounds of free reusable masks in June/July 2020, September/October 2020, November/December 2020 and March 2021. The use of reusable masks helps to lower infection spread, and reduce plastic waste from disposable masks.
With the emergence of more infectious COVID-19 variants, Temasek Foundation is also distributing medical grade single-use masks. These can be used as an added layer of protection on top of reusable masks or used alone. These high quality masks help suppress infection rates by reducing the level of viral loads being emitted or breathed in.
More recently, Temasek Foundation has distributed free oximeters to every household in Singapore to empower residents to monitor their blood oxygen levels regularly. By knowing their normal oxygen levels, people can be alerted if their oxygen levels drop below normal, and avert dangerous "silent pneumonia" from COVID-19 infections.
Temasek Foundation is also planning to distribute povidone-iodine mouth gargle in the coming months. More details on this will be shared later.
Other community efforts in Singapore by Temasek Foundation included:
setting up web portal MyMentalHealth with specially-curated articles to encourage mindfulness and mental well-being during this stressful period;
funding more than 400,000 meals in partnership with various meal support programmes for the vulnerable;
providing Back to School care packs consisting of hand sanitisers and face shields to all pre-school and primary school students when they headed back to school last year;
distributing about 1 million face shields to frontline workers, including those in the F&B and hairdressing sector;
providing care packs including oximeters, sanitisers, and masks to various vulnerable community segments; and
distributing 100,000 bottles of Vitamin D3 tablets to vulnerable communities, seniors, and expectant mothers.
Temasek Foundation has also facilitated over 200,000 swab tests plus care packs for priority groups such as migrant workers, essential and frontline staff, stallholders, retail assistants and town council staff in our residential precincts to our community stay prepared and keep safe.
More recently, we launched Youth Action for Pandemics, an initiative for people under 40 years old with innovative ideas to help address COVID-19 and prepare for the next pandemic.
Besides taking care of our local community, Temasek Foundation recognises the need to ensure that communities beyond Singapore are well-equipped against this pandemic. Initiatives include the donation of Personal Protection Equipment such as masks, gowns, and gloves; oxygen-related support equipment, from oxygen concentrators and ventilators, to ICU ventilators and ECMO lung machines; and diagnostics such as test kits to healthcare partners in some 40 countries beyond Singapore.
Together with the World Food Programme and Singapore Airlines, we are supporting efforts to transport essential medical supplies and other health and humanitarian items to points of need across Asia and the Pacific. Singapore Airlines and Temasek Foundation co-sponsored the cost of flights to transport the life-saving supplies to different countries. The partnership has so far completed more than 40 flights, carrying over 5,200 cubic metres of COVID-related products such as oxygen equipment, face shields, goggles, gowns, and respirator masks.
For more information about other Stay Prepared initiatives, visit stayprepared.sg.
---
1 Available at 11 of the select 15 CapitaLand malls: Bedok Mall, Bugis Junction, Bukit Panjang Plaza, Funan, IMM, JCube, Junction 8, Lot One, Plaza Singapura, Tampines Mall, and Westgate