What happens to coffee grounds and other kinds of food waste that gets thrown away? In 2020, out of the 655,000 tonnes of food waste generated in Singapore, bulk of it was incinerated at waste-to-energy (WTE) plants, while only 19% – or 126,000 tonnes – was recycled.
Composting may be one way to recycle food waste, but the Junior and Senior Top Team winners of the 2021 Young Sustainability Champion (YSC) programme – Sustainability Champs and Team Carbs – chose different approaches to give food waste a second lease of life! They were among 14 outstanding shortlisted groups that participated in this annual youth-centric initiative, organised by Science Centre Singapore and supported by Temasek Foundation.
"The Young Sustainability Champions are youth who have heeded the call to safeguard the planet and our health. Through organising such sustainability challenges, Temasek Foundation hopes to help our youth fuel the engine of science and innovation and address sustainability goals. This will open the door to a better future for all," said Mr Lim Hock Chuan, Head, Programmes at Temasek Foundation.
The 2021 challenge, which focused on tackling food sustainability issues specific to Singapore, attracted over 10,000 participants from more than 70 schools, with 200 of them progressing to the mentorship and prototyping stage. From there, 14 teams moved into the incubation stage, further refining their prototypes in the lead up to the Grand Finals Showcase and Virtual Awards Ceremony, held at the Science Centre on 18 March 2022.
Of these final 14 teams, Principal Engineer and Global Director – Digital Readiness Programs, Intel, cum YSC judge Anshul Sonak shared, "I found all entries to be very innovative and I was particularly astonished to see the empathy and sustainability mindset displayed in the solution thinking and their respective presentations."
"To observe their attitude, tenacity, curiosity and grit throughout their innovation journey at their age inspires hope in me and my fellow mentors," added Muhd Ibnur Rashad from Ground Up Innovation Labs for Development, who mentored the students closely. "It excites us all to see these future-ready young inventors apply their STEM skills to build the food sustainability solutions they dreamed of."


[Winner of the Junior Category] Sustainability Champs: A Biodigester for All
Food waste is actually more harmful to the environment than we may realise. Decomposing organic waste in landfills releases methane, a harmful greenhouse gas with a higher potency than carbon dioxide. According to the United Nations, 20% of human-caused methane emissions are due to such landfill waste.
For Renzo Ng, Praishan Joshi and Yeshwanth Senthilkumar of Sustainability Champs, finding an effective solution to recycle food waste was on the top of their list. "We wanted to put food waste to better use, so that it can serve a more useful purpose," said Praishan.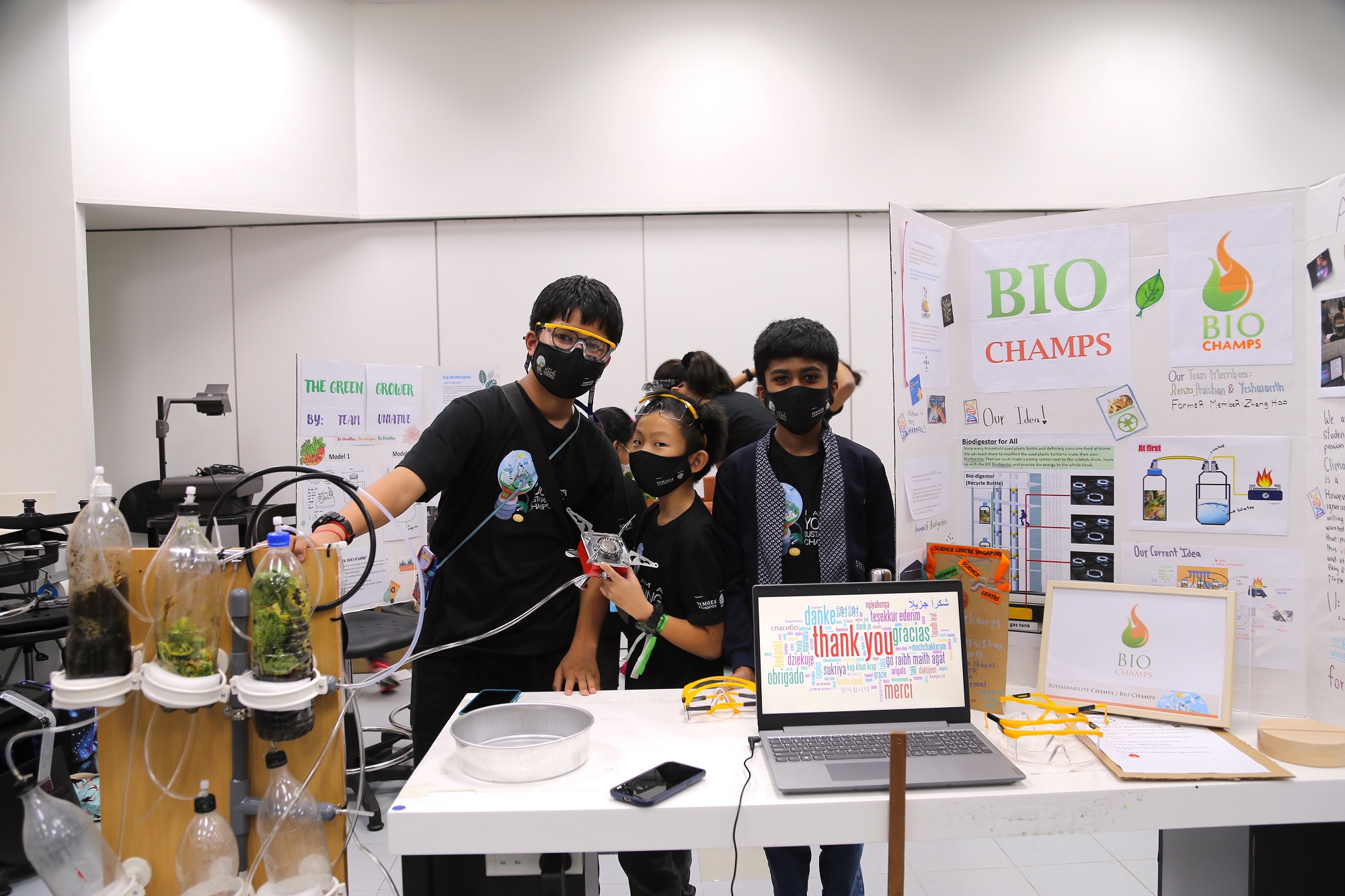 Judges and guests were impressed by the functioning prototype of a portable biodigester designed by Praishan Joshi, Renzo Ng and Yeshwanth Senthilkumar (from left to right) of Sustainability Champs
The trio, who share a passion for inventing, did some research and came across the concept of biodigesters, a system that converts food waste to methane. "These are typically used in big factories, and are big and heavy," explained Yeshwanth. "So, we decided to make a portable biodigester, which can be easily carried or moved around."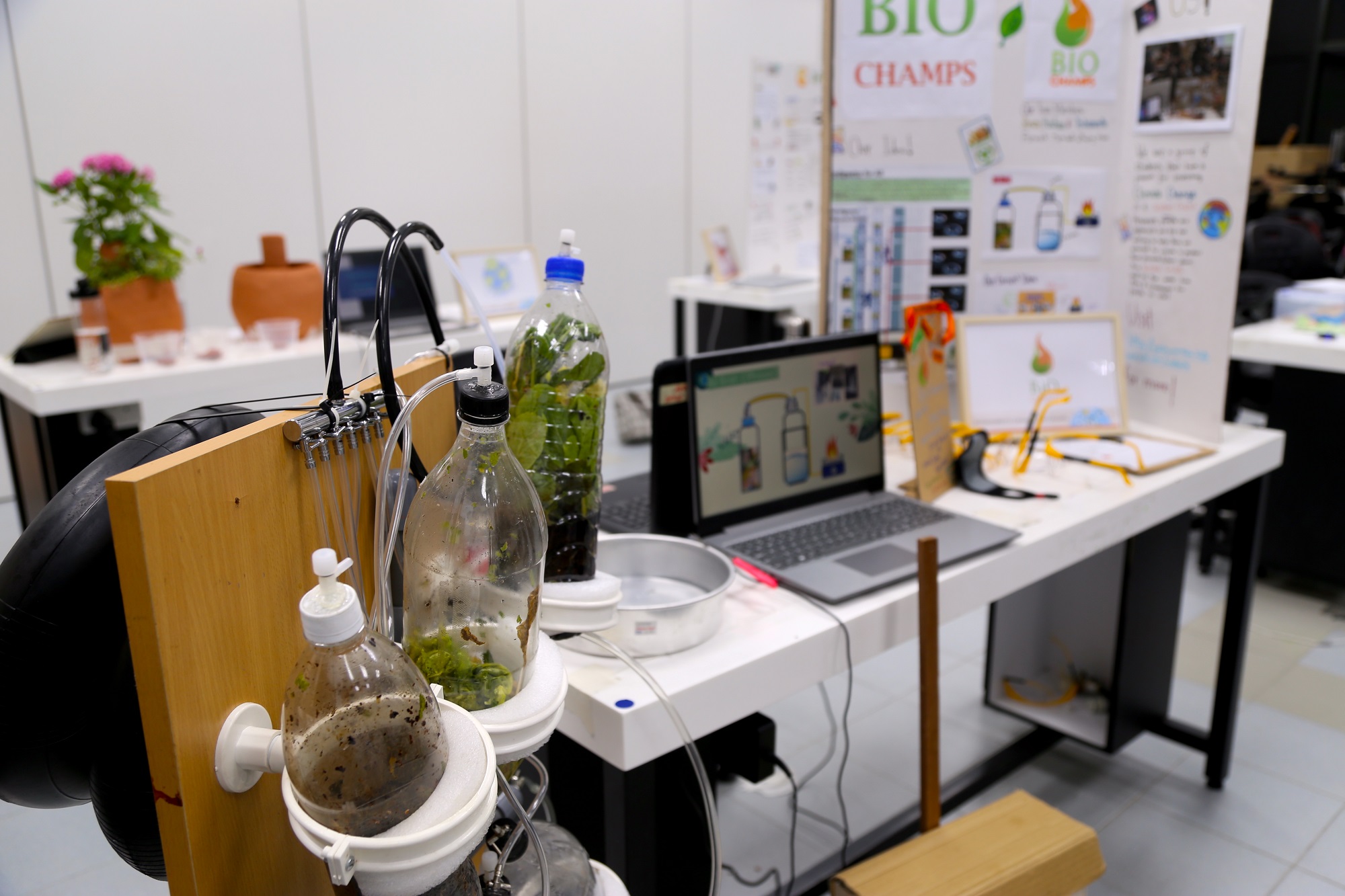 The functioning prototype uses six plastic bottles, to which food waste is added. Methane generated by the waste travels through a series of tubes and pipes, eventually getting stored in an inflatable rubber tyre.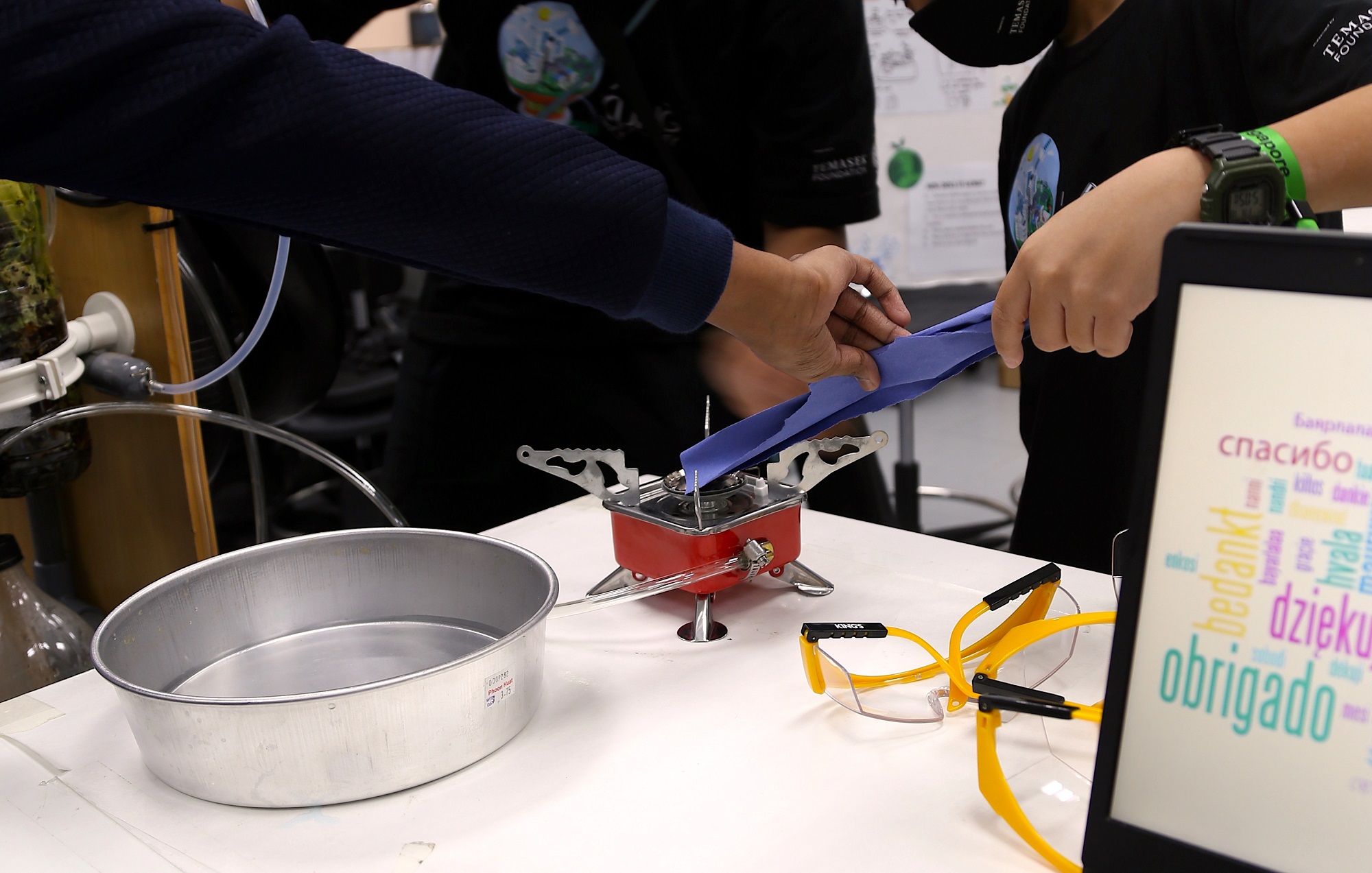 The team demonstrates how the methane gas can fire up a stove

What clinched the win for this YSC Junior Top Team was the prototype's scalability, and how it could potentially provide biomass energy for an entire apartment block. Ultimately, the team hopes to expand their project to teach people to make their own biodigester, so as to work towards their vision of 'a biodigester for all'.

[Winner of the Senior Category] Team Carbs: From Purposeless to Practical
When thinking of leftovers and food waste, Phua Zu Yi, Naomi Ng, Emma Ho, Lim Si Ying and Breanna Solomon of Team Carbs decided to focus on an ubiquitous beverage that is consumed worldwide on a daily basis – coffee.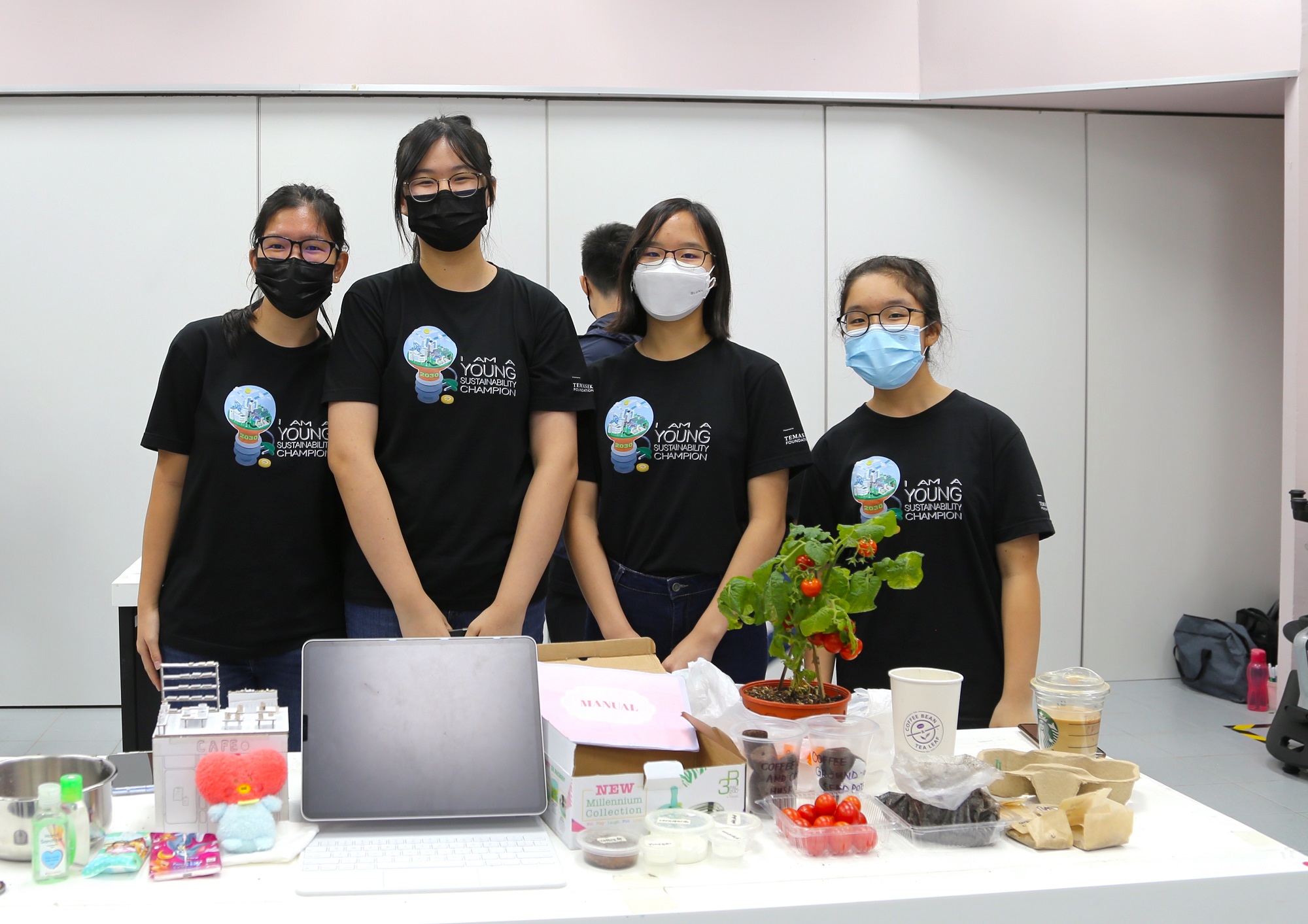 (From left to right) Phua Zu Yi, Naomi Ng, Emma Ho, and Lim Si Ying (absent: Breanna Solomon) of Team Carbs hope to transform the waste (coffee grounds) into usable and biodegradable nursery pots for growing plants
"We thought about coffee grounds that get thrown away by cafes," said Si Ying. Typically discarded after each fresh brew is made, the spent – or used – coffee grounds eventually end up as trash as with most food waste. However, its nutrient-rich content can actually be repurposed in other ways; this includes fertilising plants, as it contains minerals such as potassium, calcium, and magnesium – all which are vital for plant growth. This led the team to their idea of creating biodegradable seed bombs.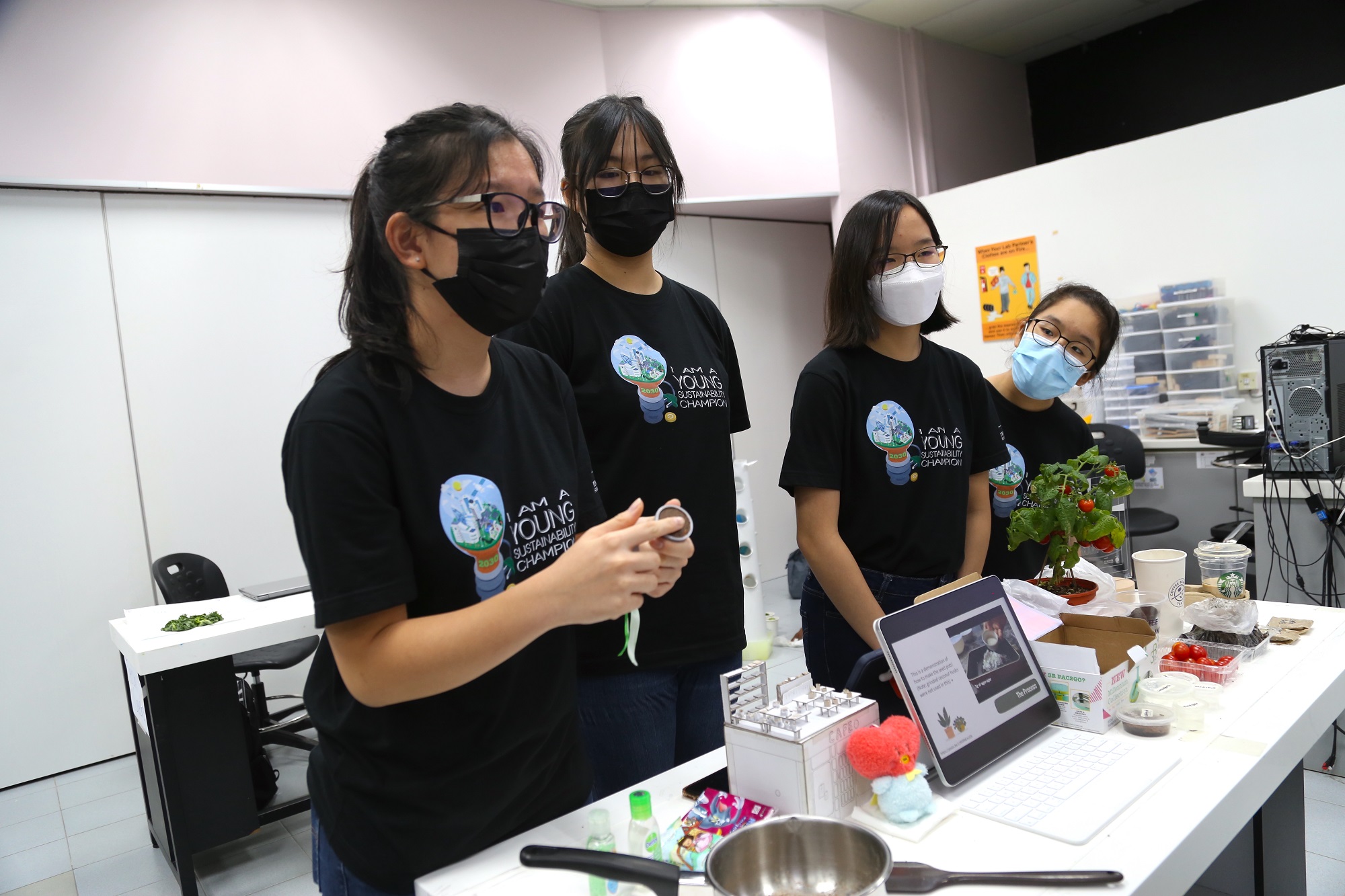 To create the seed bombs, spent coffee grounds are heated over a stove, and mixed in with ingredients such as corn starch, vinegar, glycerine and agar agar. This results in a mixture with a clay-like consistency, which gets shaped into a conical mould. A hole is made in the pod before it dries up, so that seeds can be placed in them.

Leveraging their success in the YSC programme, this Senior Top Team is looking to create further awareness of their product, and market it to a wider audience. "We plan to make an extension that can be connected to coffee makers, such as cafes, to channel spent coffee grounds used as base material for the seed bombs," shared Naomi. "We'd also like to eventually team up with other organisations or cafes to sell DIY seed bomb kits, or hold workshops to teach people how to make them."

"Teamwork makes the dream work"
When asked about one key takeaway from their experience, both teams acknowledged the importance of teamwork, particularly as they came together to see their project through to fruition.
The mentorship aspect of the programme also made an impact on the students. Yeshwanth from Sustainability Champs said, "It was very fun and engaging with our mentors and we learnt many things from them that helped in developing our project."
We look forward to seeing how each team continues to further expand their endeavours, to make a greater difference towards our sustainable future. As Assoc. Professor Lim Tit Meng, Chief Executive of Science Centre Singapore, aptly summed it up, "The Young Sustainability Champions programme manifested very clearly how the Power of STEM plus the Power of Youth can make the students changemakers for a more sustainable world."