Some seniors are too shy to open their mouths wide. Others are tight lipped about their dental woes. But left untreated, tooth loss, gum infection and tooth decay can lead to complications such as malnutrition or even pneumonia – a common cause of death among the elderly.

Despite these risks, oral care is a low priority for those in the demographic, many of whom face mobility issues. For Madam Teo Ang Choo, 89, dental visits — once part of her regular health check-ups — were curtailed after a fall in 2021 that rendered her homebound.

A pilot programme newly launched by the National Dental Centre Singapore (NDCS) and Temasek Foundation serves seniors like her. Called Tele-Dentistry Oral Care for Seniors — or T-DOCS — it offers dental screenings once every six months to those enrolled in home care programmes or staying in nursing homes.

Healthcare workers, armed with intraoral cameras, scan the mouths of seniors for conditions such as tooth decay, gum inflammation and plaque.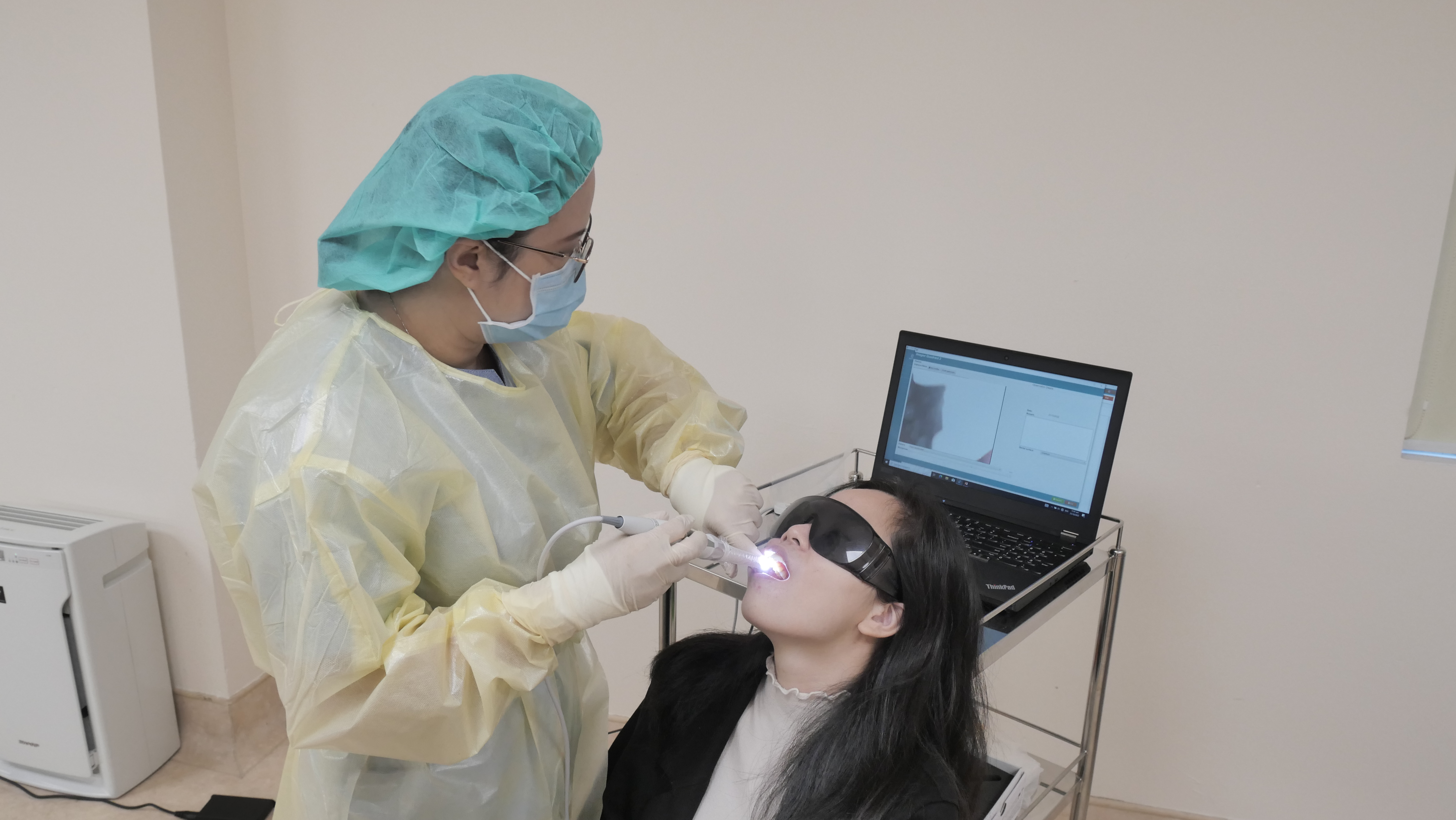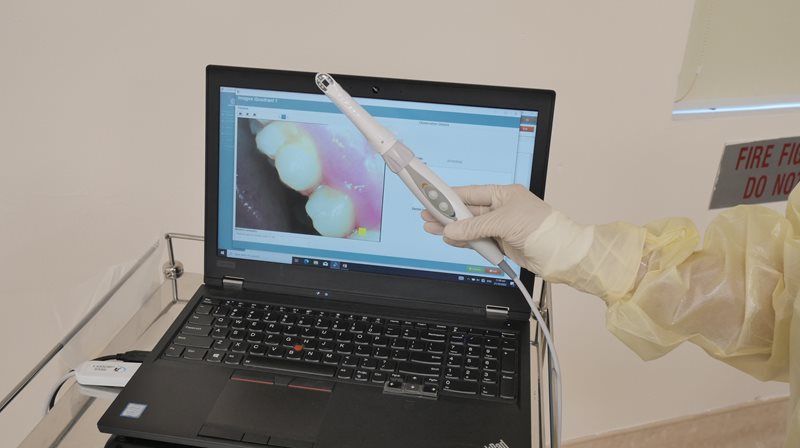 Above: A demonstration of the T-DOCS' dental screening process. Under the programme, healthcare workers use intraoral cameras to scan the mouths of seniors.

In just 30 minutes, these portable stick devices collect and transmit images to a laptop, which are then uploaded to an electronic system for remote assessment by NDCS' dentists. Treatment plans – including oral hygiene education and necessary referrals for dental treatment – are then conveyed to care staff, participating seniors and their families for follow up.

So far, about 200 seniors from St. Andrew's Community Hospital (SACH)'s Home Care Services and Vanguard Healthcare have benefited from T-DOCS. The programme's principal investigator, Clinical Associate Professor Christina Sim of NDCS, said 80 per cent of these participants suffer oral conditions including tooth decay, gum inflammation and calculus build up.

In some cases, staff also helped patients make appointments at dental clinics under the Community Health Assist Scheme.

Screenings conducted during T-DOCS' pilot phase are free, with the programme supported by a commitment of $1.23 million by Temasek Foundation over three years.

Mdm Teo is one of the early participants. A dentist first examined her at the start of the programme, and every six months since, nurses from SACH Home Care Services drop in for her regular oral screenings in the comfort of her own home.
Speaking in Mandarin, Mdm Teo, who is unable to walk, said: "I used to visit the dentist. But after losing my mobility, I stopped going to the clinic. Now the SACH nurses come to my house, which is more convenient."

The SACH team found tartar in two areas of her mouth. They have also trained her son, Richard Lim, 66, a retired taxi driver, to correctly brush her teeth, and provided interdental aids such as floss and special toothbrushes for her oral hygiene regimen.

Mr Lim pointed out that early detection will allow her to be referred to a dentist before issues become severe. "The programme relieves the stress faced by caregivers like myself. It will be very challenging to take my mother to the dentist as she's wheelchair bound and I don't drive."

In some cases, elders are cognitively impaired with conditions like dementia, which means they may not be able to brush their teeth well.

T-DOCS also helps seniors who might be unable to communicate their oral care concerns and requirements, said Mr Lim Hock Chuan, Head of Programmes at Temasek Foundation. He added: "Recognising these needs, Temasek Foundation is happy to support the T-DOCS programme to bring preventive oral care to these seniors."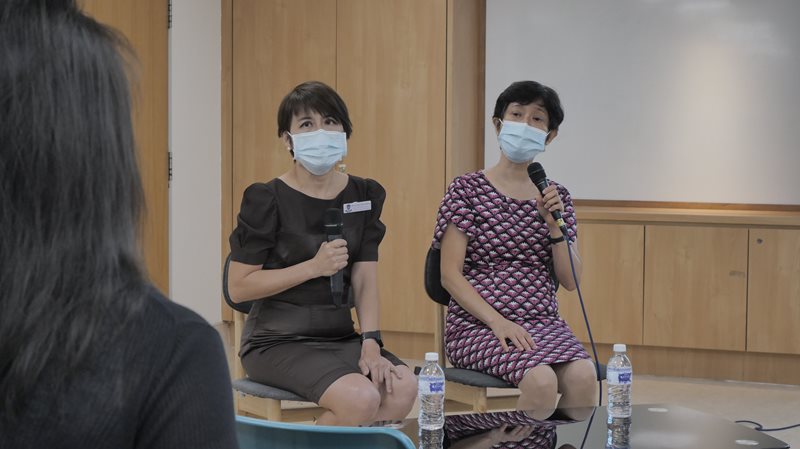 Above: Dr Patricia Lee (left), who heads St Andrew's Community Hospital's home medical services and Clinical Associate Professor Christina Sim of the National Dental Centre Singapore, sharing their findings based on nearly 200 participating seniors from the start of T-DOCS till October 2022

The T-DOCS team is simultaneously developing an artificial intelligence software to analyse captured images, reduce time taken to assess them, and alert dentists sooner to areas of concern.

T-DOCS' next milestone is to reach 600 seniors, including those in senior activity centres and other eldercare homes, by early 2025.

Based on a 2017 study, Singaporeans who live in community facilities aged 60 and above have a mere 11 or so teeth. In comparison, at least half of Japan's octogenarians have 20 intact chompers — the optimal number to munch efficiently.

NDCS' Clinical Associate Professor Sim said that it is the level Singapore should aspire to reach. "We believe T-DOCS will provide a unique opportunity for vulnerable seniors to access oral care so as to improve and maintain their oral health."

She envisions T-DOCS becoming a model of care and a norm in community-based oral care programmes. "We believe this will translate to a better quality of life for our vulnerable seniors who will be able to enjoy daily assisted oral hygiene care."

Speaking from her experience in eldercare, Dr Patricia Lee, who heads SACH's home medical services, said that having fewer teeth, as well as other deep-seated dental issues, can affect the individual's all-round wellbeing.

For instance, a reduced ability to chew can lead to poorer diets and subsequent frailty. There are also possible psychosocial effects. Diet requirements might inhibit dining out and some, by extension, might find it pointless to leave the house.

"All this might affect their mood and quality of life," said Dr Lee. She said her patients have benefitted from T-DOCS, which tops off their regular health check-ups. "With one single visit by the Home Care team, patients can have their medical and dental issues addressed."

SACH senior staff nurse Lee Chuen Hui, is one of more than 40 nurses trained to operate the intraoral imaging system and provide basic oral and denture hygiene care. She has conducted 20 T-DOCS' screenings over the past year.

She said some patients feel reluctant — or "paiseh" (Hokkien for shy) — in the beginning. Ms Lee said: "They say they've no teeth and there's nothing to check. We will advise them regarding the importance of maintaining good oral health as we do not want them to suffer in silence. We hope they will be able to smile, eat well, live well, and enjoy life and all it has to offer."