New portable devices which can detect chronic vision issues are in a pilot study to determine the feasibility of deploying them at polyclinics nationwide.

A patient being supervised while using a conventional and bulky eye screening machine, part of a process which typically which requires an appointment visit at a hospital.
Eye conditions like glaucoma tend to creep up on the individual. Painless, symptomless and with nary a hint of redness, patients are often stunned when diagnosed with the chronic condition.
Describing it as a silent thief of sight, Associate Professor Victor Koh, the Head and Consultant of the National University Hospital's Department of Ophthalmology, said: "Patients are unlikely to seek help for the irreversible condition because most don't experience symptoms. It is often a challenging case when they come to me at a late stage since they've already lost significant vision or are already blind.
"On the other hand, a lot of things can be done to slow down and even stop the process if I get to see the patient in the early stages when there is yet to be any functional deficit."
It can be as simple as eye drops, with solutions extending to laser work and surgery which can save sight, he shared.
This is why Assoc Prof Koh, alongside a team from the Centre for Innovation and Precision Eye Health at the National University of Singapore's Yong Loo Lin School of Medicine, designed a suite of novel, easy-to-use, portable devices to screen seniors in the community.
Less bulky and costly than their traditional counterparts, the nifty innovations provide data on visual acuity, visual fields and eye pressure. They were deployed for community testing at Pioneer Polyclinic beginning in January 2022 under a comprehensive eye screening pilot programme for seniors aged 65 and above — an initiative supported by Temasek Foundation.
The aim of this ongoing pilot is to ascertain the feasibility of an eventual roll out at more polyclinics with the goal of nipping vision issues in the bud.
Apart from glaucoma, Singaporeans also suffer from cataract, diabetic retinopathy and age-related macular degeneration. The eye screening programme covers these chronic eye diseases which are on the rise here and also of concern globally.
Assoc Prof Koh said that the programme, which recruited 230 seniors, found vision abnormalities in every one in five participants. They required further assessment by specialists.
The initiative also successfully identified three participants in urgent need of specialist referrals due to sight threatening eye conditions.
Assoc Prof Koh said the pilot found the portable devices to be accurate and effective for screenings, and comparable with traditional gold standard diagnostic equipment widely used in hospitals.
Assoc Prof Koh said Temasek Foundation's funding was integral in helping them obtain the necessary data to validate the usability and efficacy of the devices.
"Temasek Foundation provided constructive feedback in the planning phase especially with budgeting and feasibility of the project roll out."

Moving forward, Assoc Prof Koh hoped to scale up the programme so that Singaporeans can have more regular and convenient eye screening tests in primary care settings such as polyclinics. Ideally, such a screening would take about 30 minutes, he said.
Assoc Prof Koh said: "We are bringing these devices out of the hospital environment to reach more people. On top of decentralising care, we've automated some of the processes."
Mr Lim Hock Chuan, Head of Programmes at Temasek Foundation, said: "Temasek Foundation would like to congratulate Assoc Prof Koh and his team for the successful pilot study to determine the feasibility of deploying portable devices to manage eye health at polyclinics nationwide."
"These portable devices are accurate and effective for screenings, and comparable with traditional diagnostic equipment widely used in hospitals. Their deployment in the Polyclinics will make them easily accessible to those who need them, especially the elderly," he added.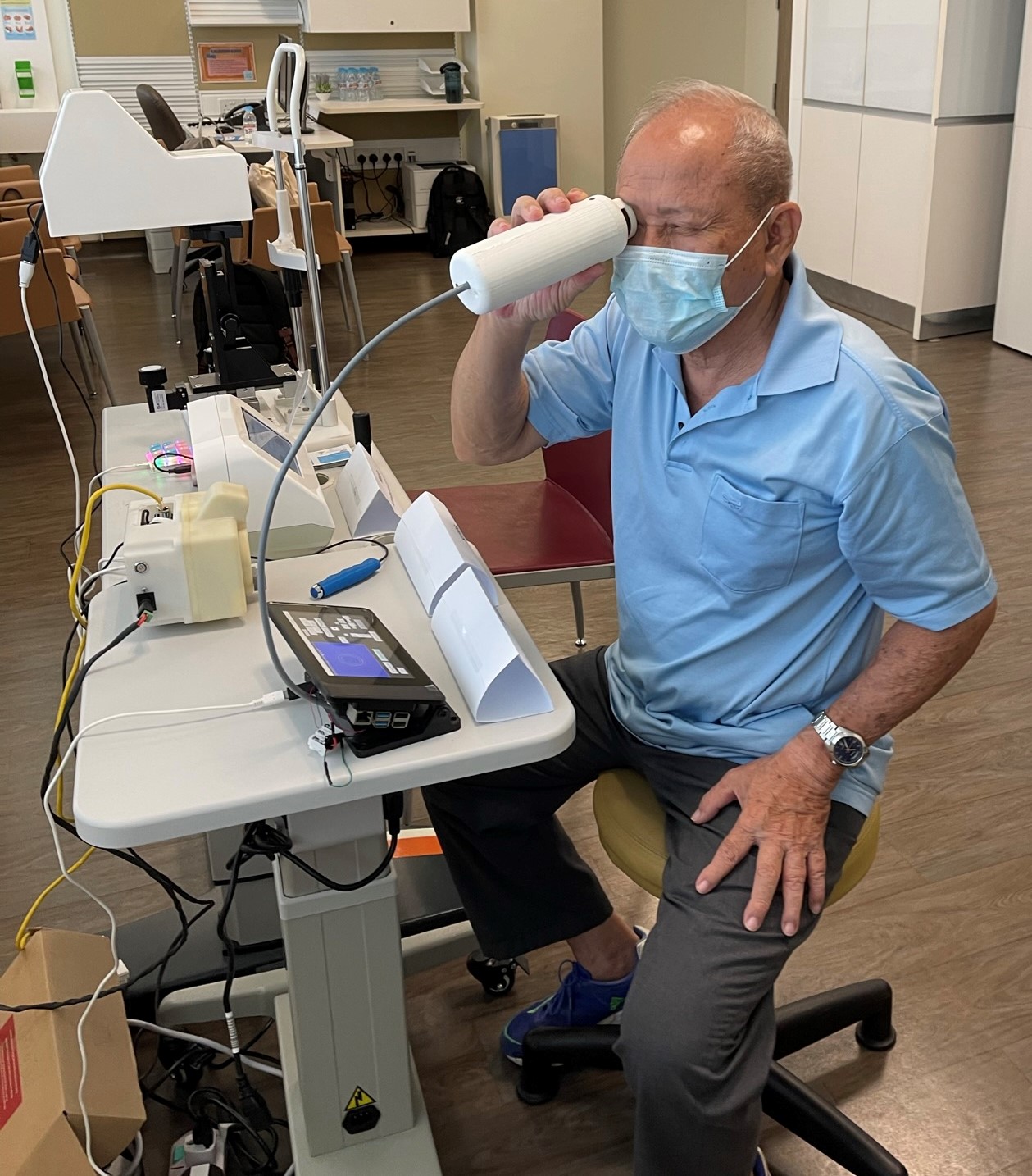 Mr Foong using one of the novel devices to check his eye health.
The elderly participants of the pilot initiative welcomed the greater accessibility offered by the programme, sharing that they tended not to prioritise eye health checks via the hospital appointment route.
Mr Foong Yee Kong, 76, a participant, said he was grateful that the screening picked up on a condition in his right eye. He said: "Luckily I went for the screening session and found out I've cataract in my right eye. Now I can monitor my situation and decide if treatment is needed! The session took so much less time, and the equipment are easy to use and not intimidating at all!"
Mr Foong, a part-time office cleaner, had previously been diagnosed with cataract in his other eye, a condition which he has since received treatment for.
Assoc Prof Koh further pointed out that the programme can result in overall cost savings to the healthcare system. Specialists are not required to be on-site and can remotely monitor our patients in the community. Hence, these novel innovations can lighten the load of overburdened ophthalmology specialist clinics.
Better still, he said: "Detecting persons at risk of visual impairment or during the early stages of chronic eye disease can greatly improve productivity and quality of life."