It has been a year of marked changes for Temasek Foundation as it underwent significant organisational restructuring. What are your thoughts on this?
The real challenge was ensuring that we were able to bring all our people, at all levels, on-board the change. The team worked adaptively and evolved quickly to institutionalise an effective structure, where diversity of experience remains valued even as a clear and focused direction in leadership is forged for the entire organisation.
The Board members – those who remain and those who have retired – have been a source of wise counsel and encouraging support. In particular, they helped ensure that the establishment of the Executive Boards and the re-configuration and consolidation of their various domains and portfolios were effected without losing a step in the delivery outcomes of programmes to beneficiaries. Indeed, where disruptions did occur, it was not because we were not ready to move, but because the pandemic situation prevented our supported partners from operationalising their work on the ground during this period.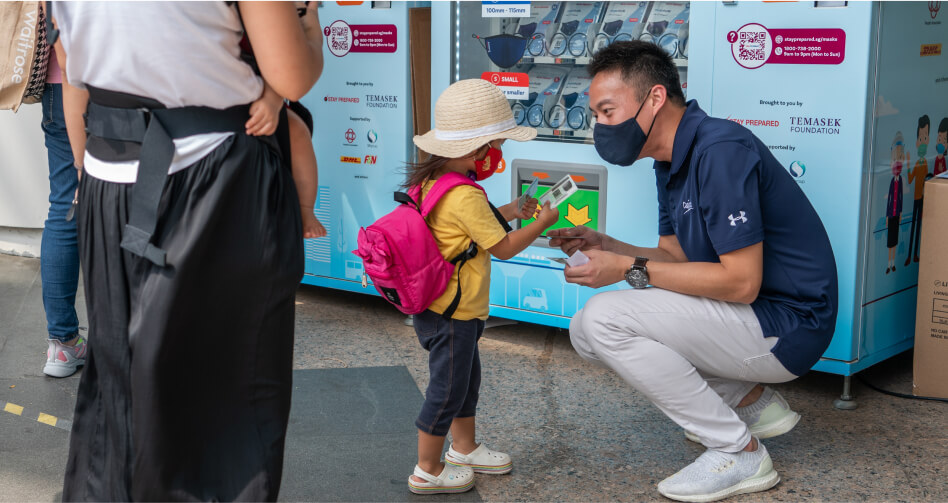 The team worked adaptively and evolved quickly to institutionalise an effective structure, where diversity of experience remains valued even as a clear and focused direction in leadership is forged for the entire organisation.
While it is still early days, how has Temasek Foundation made progress through the re-organisation?
What our people and partners did well and good in the previous structure was operationally sustained and not distracted or disrupted by the re-organisation. This was invaluable especially in such a transition.
Our beneficiaries has and will always come first.
What we gained was that our people now had a keener and fuller shared awareness of the larger purpose and the potential opportunities across the various domains, where we could work together synergistically or address emergent gaps more effectively. This subsequently led to the creation of joint teams to develop projects and programmes in the areas of Disease X, Climate Change, Mental Well-being and Youth Engagement.
To enable us to develop deeper and more strategic capabilities, we also had a newly created function to strengthen partner relationship engagement, as well as to convene thought leadership. With people being our most valuable resource, we are also in the process of creating more opportunities for staff to grow and reach their fullest potential, with inter alia cross postings and multi-disciplinary training for career and professional development, across the Temasek Foundation family and possibly even beyond to our collaboration partners.
The year has been exceptional not just for Temasek Foundation, but for everyone in Singapore and beyond as the pandemic has affected the way we all live, work and socialise. How has this affected the philanthropy sector and the Foundation's work?
The COVID-19 situation has forced us to think of and operationalise alternative ways to engage and meet the needs of the vulnerable and needy within the context of the various restrictions.
However, I think our work is, and should always remain essentially people-centric. Nothing can replace the value of the human touch, the compassionate engagement and trusted relationships between people that must sustain programmes in this sector.
The pandemic situation dislocates this direct connection, but the stronger the cultivated relationship had been, the more resilient it is in spite of these dislocations. Eventually when the dust settles, we will have to revert to a people-centric service model, but now broadened and equipped with other means and resources to engage and deliver, aided by technology and the persistent ingenuity of our people in the face of this adversity.
The disruption has also made us realise how fortunately well-placed Temasek Foundation is to be able to mobilise its considerable resources and expertise across its full reach within, and also beyond to our network of partners to innovate, adapt and deliver real solutions and capabilities of different scale to address urgent needs arising from the crisis."
A simple example is how we trialed the use of vending machines to distribute hand sanitisers to all Singapore residents; this may have been the first of its kind in the world.
Apart from such efforts, we also believe that a way to strengthen Singapore's philanthropic ecosystem is to create a convening platform to bring together the best ideas and practices from the various foundations in Singapore and the region for exchange and collaboration. We should look beyond today; beyond the pandemic at hand, and look at other pressing complex challenges of the future that Singapore, the region and the world face.
This year, we had the Temasek Shophouse Conversations, a series of thought leadership conferences that brought leaders from the public, private and community sectors together to forge multi-sector collaboration on subjects like the "next" pandemic and climate change. The Conversations will culminate in our inaugural Philanthropy Asia Summit in November 2021.

What do you look forward to in the next year? What would be the aspirations for the Foundation for the year ahead?
As a country, I think we have weathered this pandemic well. While there are still uncertainties and risks, we are in a better position today than we were a year ago. Hardships including the unseen stress on mental well-being will continue to be real for many. We should not underestimate this and should do what we can to reach out to help even if or when it is each one at a time. 
Providing support and assistance to the person whose family is in urgent need is always about the last mile – was the need addressed, and were we able to fully meet that need? While it is necessary to design programmes with our minds, we should implement it with our hearts knowing that we are dealing always with a whole person, and therefore a situation which is typically complex and multi-dimensional in terms of needs. We should always pay keen attention to the last mile and listen with our heart. That would be my advice to all working in this sector. 
During this adversity, we have seen a lot of people and organisations stepping up to help those in need. Temasek Foundation had a very active year with strong corporate participation and volunteering in distributions, as well as with individuals who stepped up wanting to play their part – big or small – to help their neighbours and their community. This is truly heart-warming and bodes well for Singapore as a nation.
And just as the Singapore community will, in my view, emerge stronger and more confident having experienced and overcome COVID-19 together, I believe that together with our ecosystem of partners, we as an organisation, will also grow to be more resilient and confident in our ability to make a difference."
In the next year, I look forward to our continuing renewal journey while growing our extended family to welcome even more partners across the society in and outside Singapore to collaborate and join us to help each other do good and to do it well.
NAVIGATING NEW FRONTIERS
STRONGER TOGETHER
Building a More Resilient Asia
NAVIGATING NEW FRONTIERS
TRANSFORMING TRADITIONNAL ARTS FOR A DIGITAL GENERATION
Preserving Culture for Future Generations
AUGMENTING TRANSFORMATION
MAKING WAVES FOR THE FUTURE OF MARINE LIFE
Enhancing Mariculture Capabilities in Singapore
AUGMENTING TRANSFORMATION
Milking Tech for Tomorrow
Cell-based milk for future generations
Waves Forward
LEADING THE WAY
Increasing Accessibility for the Visually Impaired in Museums
Waves Forward
FACING THE UNSPOKEN
Artificial intelligence as a complementary tool to conventional counselling to support the mental wellbeing of seniors
Building Resilience, Together
"That has been our Singapore story: In crises, we have never failed to wrest opportunity from danger." - Singapore's Prime Minister Mr Lee Hsien Loong
Inspiring Change, One Conversation at a Time
Bringing together thought leaders to address challenges and drive action.
Building a Shared Future, Nurturing Leaders of Tomorrow