Artificial intelligence as a complementary tool to conventional counselling to support the mental wellbeing of seniors
The tool is especially helpful for newer or less experienced case workers who have yet to develop the full suite of skills to manage complex cases. For them, the digital analysis of the facial emotions serves as a cross-check of the visual cues observed during a session."
"It's not easy for the elderly to change. That's why it's important to gradually work with them, to journey with them over time," said Stephanie Goh, Senior Case Manager at Lions Befrienders.
Stephanie was a social service worker before she joined Lions Befrienders as a case manager six years ago. It is a role that she relishes as it allows her to leverage her experience to provide support and care for socially isolated seniors, particularly on the state of their mental health.
"When I first saw her, her facial expression was totally blank," Stephanie recounted a case which left a deep impression on her. She had first met the 60-year-old elderly lady who had fallen into depression as she could not keep her job as a cashier due to the medical condition. There was no family support to provide the needed care for her recovery.
It took almost three months of consistent befriending by Stephanie before the elderly felt assured to share about the real issues troubling her, and only then was she able to receive the appropriate advice and counselling.
From her experience, Stephanie knows that uncovering the root cause is the key to the mental wellbeing of seniors. "That is why it is important for us to always address the root of the problem as early as possible, to prevent depression," she added.
To enable earlier and more accurate diagnosis of mental health issues such as anxiety, stress and depression in senior citizens, Stephanie and her co-workers at Lions Befrienders are piloting the Temasek Foundation Facial Analysis Correlation of Emotions (F.A.C.E.) Programme.
Developed by A*STAR using local data, the evidence-based software uses artificial intelligence (A.I.) to measure facial expressions by mapping positive and negative emotions in real time.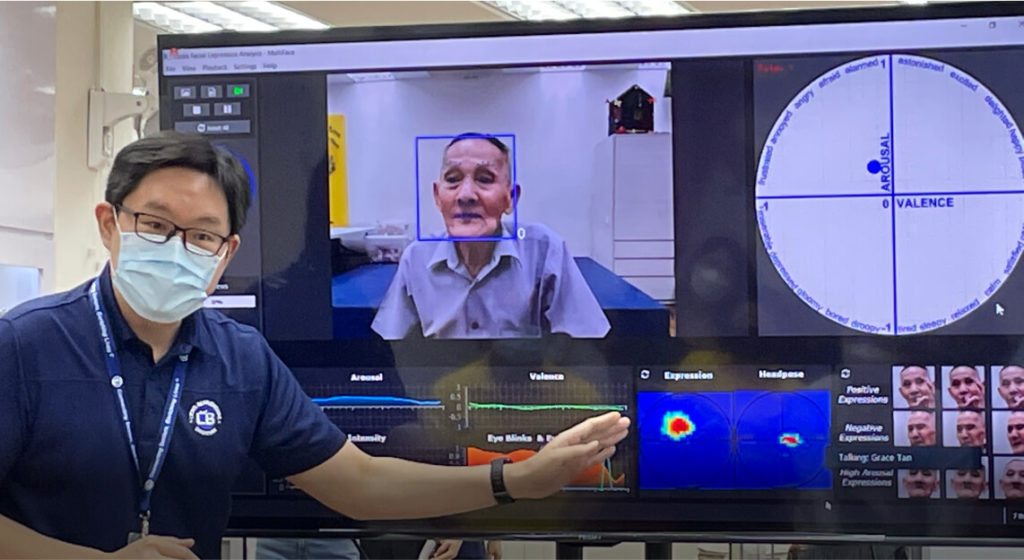 79-year-old Mr Yin Chee Keong, a senior participant undergoing the pilot F.A.C.E Programme, which analyses facial emotions as a supplementary tool to counselling.
While demonstrating the application of the tool on 79-year-old Mr Yin Chee Keong, a senior participant of the pilot programme, Stephanie explained how the A.I. software helps with immediate intervention during a counselling session, be it physical or virtual.
For example, if Uncle Yin is smiling, but the analysis of his facial expression picks up the feeling of 'annoyance', it's a hint to us that there is a disconnect with how he actually feels. This is an indicator for us to probe further, to find out if he is being bothered by something – because sometimes, our seniors may not want to share too many details with us."
"This software is quite new, and we are still monitoring and learning from it. But based on the initial results of a trial of 30 participants, there was about 85% accuracy in the readings when compared with our assessments. So yes, we think this is a tool that could help in early detection and preventive intervention, for both diagnosed and undiagnosed mental health cases," Stephanie commented.
"The tool is especially helpful for newer or less experienced case workers who have yet to develop the full suite of skills to manage complex cases. For them, the digital analysis of the facial emotions serves as a cross-check of the visual cues observed during a session. It not only enhances the accuracy of the diagnosis but also speeds it up. Then we can quickly intervene and make the right care plans for the seniors. Besides that, we can also use it for group counselling and monitor multiple seniors, complementing the work the counsellor can do."
While the new initiative is showing promise in helping social workers and case managers better assess at-risk seniors, Stephanie reiterated, "at the end of the day, I feel that A.I. cannot replace the human touch and the skills of our workers that are very much needed in our line of work. It is meant to complement and support the work we do."
Temasek Foundation Facial Analysis Correlation of Emotions (F.A.C.E) Programme
A two-year pilot programme in collaboration with Lions Befrienders that taps artificial intelligence (AI) to measure facial expressions, mapping positive and negative emotions in real time to diagnose mental health concerns such as anxiety, stress and depression in senior citizens.
Programme is expected to benefit 4,300 seniors during the pilot phase.